Sudan: Sounding the Trumpet
​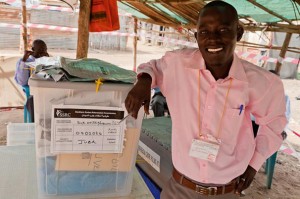 Voting in South Sudan concluded this past weekend, possibly marking the birth of Africa's newest country.  An article published by the ACT Alliance accounts the story of Anglican Bishop Paul Yugusuk and his pledge to be last person to vote at his station.  "And once I have cast my vote, I'll blow my trumpet to mark the end of slavery and oppression in southern Sudan."
While the voting was overall very peaceful, painful memories were revived this week as 10 southerners were killed as they tried to move from the north, a low point in a referendum week otherwise dominated by hope and joy. The killings also reminded everyone that while the voting process appeared to have been successful, a very complicated, difficult and dangerous period still lay ahead for all of Sudan, regardless of the outcome.
Archbishop Paulino Lukudu Loro recounted how the church led southerners in 101 days of peace prayers up to the referendum – a prayer for a change in our hearts and a prayer for a change in Sudan, he said.
Pointing to a mock ballot box placed at the alter, the archbishop promised the congregation he would pray at the ballot box for continued peace every day until July 9, the day the six year-long peace agreement between north and south Sudan expires.
Click here to read the full article.
Please continue prayer petitions for peace and security for those in Sudan.  Click here for Worship Resources from the ELCA.
Peace ~ Megan